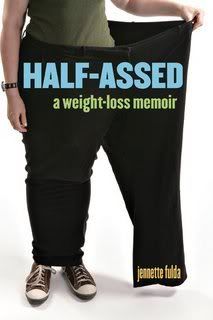 This book truly deserved

.

It had all the makings of a truly inspiring story, and yet her feat was not so impossible that no one could also complete it. She kept humble and let people know the true hard facts of weight loss.

She didn't bore the reader with how she did it. There were no exercise tips or lists of foods she ate and those she condemned.

There was only
her
story.

Stories are how most of us relate. It's why we love reading blogs, why we crave the latest and greatest on Brad and Angelina, why we enjoy watching news stories of inspiring people. It's also why most of the worlds religious books are told in narrative format. Stories help us learn, help us
empathize
, help us relate.

It was her blunt, humble attitude that kept me interested. It was the details she provided about certain events and the way she sectioned her chapters as little vignettes. It was like peeking into someone's life at certain periods of time.

I could relate to everything she said, and I could empathize with every situation she described. Which lead me to "if she can do it, I can right?"

That's the glory of a story. Nobody ever was inspired by a list of exercises and foods to eat, nor are we ever inspired by a doctor's observation that we've got too much junk in the trunk. We're inspired by stories of those just like us who do things we've dreamed of. Only Jennette has the disarming ability of making it seem completely possible.

If you're looking for a good read, even if you have no weight to lose, please read this...I promise you'll thank me.

If you're interested in seeing more you can visit her blog here.